With a wide variety of labels to choose from, you can select something that matches your event's theme perfectly. Valencia Liquor's wide assortment of wine labels are the perfect custom touch for any wine or champagne favor and can be combined with any purchase from our wine and champagne favor selections.
Please note: We no longer ship labels by mail, they will be packaged with the wine favors and be sent in one shipment. Custom labels should be affixed on the side of the bottle opposite the brand label. Brand labels can be removed for $0.25/label.
Select Customize label for your miniature bottles.
Add a customized label to any mini bottle of wine or champagne you order.

** To view the full assortment of labels, please click on a style below: "Black & White" or "Color".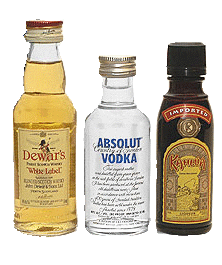 Mini Liquor and Cordial Bottles