Black and White Labels Vol. 1
Please make a choice then fill in the following information on the same order-form you are using for your mini wine bottle selection: Label Type, Label Style Number, Names and Date on Label, and Quantity. Labels are 2.75" by 2.75". Custom labels are applied by the customer and fit opposite the Vineyard label. Vineyard labels can be removed for an addition $0.25 per bottle. Labels are free with purchase of all wines except Freixenet and Anna Champagnes. Labels are not available for Freixenet and Anna champagne bottles, we apologize for any inconvenience this may cause.
Visit Our FAQ Page for Helpful Information.
Click for Our Online Order Form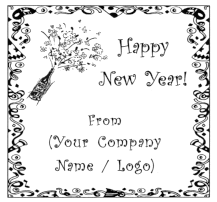 Looking for mini sparkling cider bottles? Visit our Sparkling Apple Cider page.
** Bottle labels provided by the winery are subject to change. All prices are per bottle and there are no minimum order quantities. If you purchase 96 bottles or more you will receive a 10% discount on your order! Connecticut residents add 6.35% sales tax. Shipping charges are additional. You must be 21 years or older to purchase from this site. When placing an order you'll be required to show proof of age by submitting a valid drivers license. Thank you.**