Mini wine and champagne bottles available for shipping to your door step, or if you prefer spirits or cordials visit us at www.spiritfavors.com
Wedding Wine Favors is a division of Valencia Liquor and Wine Shop. Valencia has been family owned and operated since 1963 and just like the good old days, we offer service with a smile, selection second to none and all at a great price! That is Valencia's commitment to its customers. Valencia supplies all kinds of liquor and spirits, imported and domestic beers, boutique hand crafted beers, unique cordials, and wines from around the world. Visit our other website www.spiritfavors.com to view our mini cordial and spirit favors.
Wedding Wine Favors, a Division of Valencia Liquor, CT
Wedding favors should be thought of as a thank you gift to your guests that reflects not only your appreciation for their sharing in your special day but also symbolizes you as a couple or the theme of your special day. Make your wedding favor a unique and special one. Our variety of mini and wine bottles (187ml or 6.25oz, approximately 1 glass) as well as personalized labels are the perfect way to do just that. These unique favors are also perfect for bridal showers, baby showers, birthdays, graduations, anniversaries, corporate events, special occasions and holidays of any kind. We offer fast turn around and personal attention to detail with every order.
Mini wines with personalized labels delivered to your doorstep


Order from the convenience of your own home and have your order delivered directly to your door step. You must be 21 or older to purchase. Proof of age will be requested with order confirmation. Here's how to order:

Whether you are a connoisseur of wines or you like to try something new, allow Wedding Wine Favors to assist you in choosing a wine or champagne favor that best suits your occasion and your taste. Browse any mini (187ml or 6.25oz, approximately 1 glass) bottle by variety, color or winery.
With a wide variety of labels to choose from, you can select a a label that matches your event's theme perfectly. If you have a special request on a label, feel free to ask your sales associate for more information.

Please utilize the form to initiate an order with us for mini bottles. We are also available to start your order by phone Monday-Sunday from 8:00 a.m. - 8:00 p.m. EST at 203-530-2159. Please make sure to enter your zip code so we can inform you of the shipping details, cost and time frame.
Complete an Online Order
Form
Frequently Asked Questions
Be Sure to Visit Our FAQ page for Helpful Information

CALL TO ORDER NOW! 203-530-2159
Visit Our FAQ Page for Helpful Information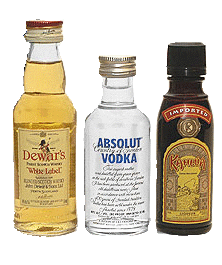 Mini Liquor and Cordial Bottles
Or call us Monday-Sunday from 8 AM - 8 PM EST at 203-530-2159 to place your order directly with a member of our staff. How you found out about Wedding Wine Favors.com is important to us. Please be sure to let your sales associate know if you found us through an Internet search, bridal guide, Modern Bride, or other resource. You must be 21 years or older to purchase from this site. When placing an order you will be required to show proof of age by submitting a valid drivers license.
Thank you.